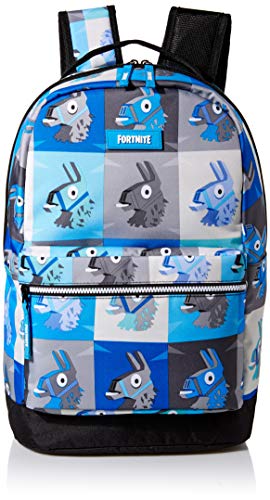 It's almost that time of year again! Back to school means new friends, new things to learn, and new gear too. Now, don't give me that look. I got you a Loot Llama Fortnite backpack so you can go back to school in style. They always say the Loot Llama has the best stuff!
The Loot Llama is a treasure box from the Fortnite video game. It offers players a chance at characters, resources, and blueprints in exchange for premium currency. Since it's associated with good things inside, the llama is often featured on real world items like this Fortnite multiplier backpack.
Give your kids a treasure trove of school supplies with the help of the Loot Llama Fortnite multiplier backpack!
This Fortnite multiplier backpack is a polyester bag featuring a replicating print of the Loot Llama. In a Warhol style pattern, the llama appears in various blue and grey shades across the bag. Just like the llama in Fortnite, you'll be able to find all sorts of good things inside. That is, after you fill it of course. I wish backpacks just came full of stuff.
A zipper closure allows access to the main compartment of the bookbag, as well as a smaller front compartment. The front compartment contains an organizer, perfect for writing utensils and other small supplies. In the larger compartment, you'll find a laptop sleeve for securing your electronics. There's still plenty of room for books, folders, and everything else you need too. Finish the school bag off with a water bottle pocket for good measure – hydration is important, kids!
Aside from the spacious capacity and awesome llama fun, this is a well-built bookbag too. A padded strap, back, and bottom keep it comfortable for wear. Adjustable straps with a 15" shoulder drop fit multiple sizes of kiddo. After all, kids of all sizes will enjoy strolling down the halls in their Loot Llama Fortnite backpack! Branded lining, webbing, and zipper pulls make it feel like a well-finished piece with attention to details.
Surprise your kids by learning all about Loot Llamas!
Additional Notes
Hand wash only
Unisex child sized, reviewers report ages 6-12 using comfortably
Bag is approximately 18″ x 12″ x 7″
Impressive 4.8 star rating with over 1,100 reviews – buy with confidence!
If this bag isn't shiny enough, check out this flip sequin backpack instead

Flip Sequin Backpack for Girls Kids Kindergarten Elementary Middle School Bookbag Travel Bag Cute Glitter Sparkly Book Bags Back Pack Traveling Daypack (Purple)

Show off your creativity with a Pix backpack featuring a programmable display

Pix Digital Customizable Backpack – Smart Waterproof Backpack with programmable LED Screen - 15'' Laptop Backpack for Women & Men (No Powerbank, Grey)

This sporty hooded backpack features a functional built in hoodie!

Black Basic Hooded Backpack

Our signature hooded backpack- a bestseller and favorite for adults, teenagers, about-to-be teens and more. Large zippered main compartmentDetachable hood with zipperAdjustable padded shoulder straps and top locker loopZippered front pocket and secret back pocketBottle pocket on one sideMesh...

Sometimes you want to take a stroll with a feathered pet, and nothing is more perfect than this bird backpack!

Bird Carrier, Space Capsule Bubble Bird Travel Backpack with Stainless Steel Tray and Standing Perch (Black)

With this cat carrier backpack, it looks like you're a Pokemon trainer out for a walk!

Scurrty Xpect Cat Carrier Bubble Backpack Small Dog Space Capsule Knapsack Pet Travel Bag Waterproof Breathable

When it's time for bed, jump into this neon Warhol Fortnite bed set featuring a comforter, sheets, and pillowcases!

Jay Franco Fortnite Neon Warhol 5 Piece Full Bed Set - Includes Comforter & Sheet Set - Bedding Features Llama, Peely, & Vertex - Super Soft Fade Resistant Microfiber (Official Fortnite Product)

Make sure to grab some great school supplies to put in your bag, like these Sprout seed pencils 

Sprout – Original Edition | 8 Pack | Graphite Plantable Pencils with Seeds in Eco-Friendly Wood | Sustainable Stationery Gift

Top your pencils off with a scented gummy bear pencil topper for more fun!

Raymond Geddes Gummy Bear Scented Pencil Topper, 24 Pack (69748)