Kitchen Mama Electric Can Opener – Automatic Kitchen Gadget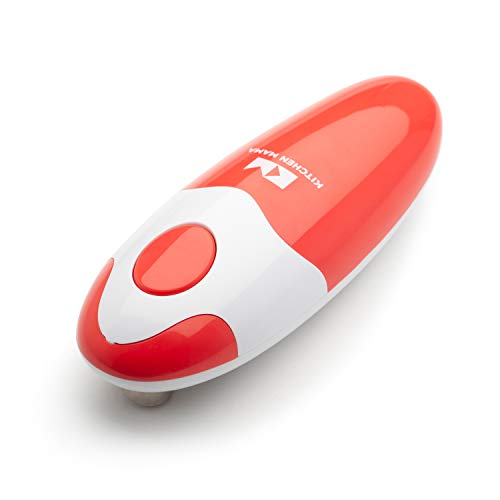 Hey, can you open that can of beans for me? I'm making my famous chili tonight. No, you don't need to worry about cutting yourself. I got a Kitchen Mama electric can opener that doesn't leave any sharp edges behind!
Kitchen Mama is an electric can opener that doesn't leave sharp edges. It achieves this by cutting below the top of the can, instead of around the perimeter. Additionally, it works with one touch easy operation. This makes it a safe choice for the elderly, arthritic, disabled, and children too.
A Kitchen Mama automatic electric can opener is a worthwhile investment for anyone who loves to cook!
The Kitchen Mama electric can opener is an amazing kitchen helper. This fantastic little device cuts the top off all your cans, and is completely food safe too. Simply place the automatic opener on top of the can, and press the button to start. The opener will turn itself around the can, a full 360 degrees. Once it's made the complete loop, just press the button again to stop.
Once you've removed your can opener, you can safely lift off the can lid. Since Kitchen Mama cuts around the outside of the lid instead of on top, it leaves no sharp edges behind. Pair that with its ergonomic design and single-handed operation and you have an awesome electric can opener. It's the perfect choice for the elderly, arthritic, mobility restricted, and even your little ones. Experience easy, clean food access with no strains, cuts, or other maladies.
Your one touch can opener can be wiped clean with a damp cloth if it becomes soiled. Then, just store it back in the drawer for next time. It's got a space-saving design that makes it work in even smaller kitchens perfectly!
Additional Notes
Available in red (pictured), white, blue, or teal green
Works with most standard tin cans, as long as the edges are vertical (not a soda can)
Requires 4 AA batteries (not included)
Do not submerge, and do not place in the dishwasher
Measures 7.09 x 2.76 x 2.17 inches and weighs just 8.5 ounces
Prefer a model that stops on its own? The one-touch version does just that
#1 best seller in both Electric Can Openers and Amazon Launchpad Kitchen!
Rated 4.4 stars with over 32,000 ratings – buy with confidence!
Need help getting into that pesky jar of olives? Check out the automatic jar opener – it's the perfect companion to the can opener!
Now that you've opened all your cans, enjoy our guide on the essential kitchen tools you need. This guide covers your first kitchen as well as the tools necessary for the aspiring home chef!