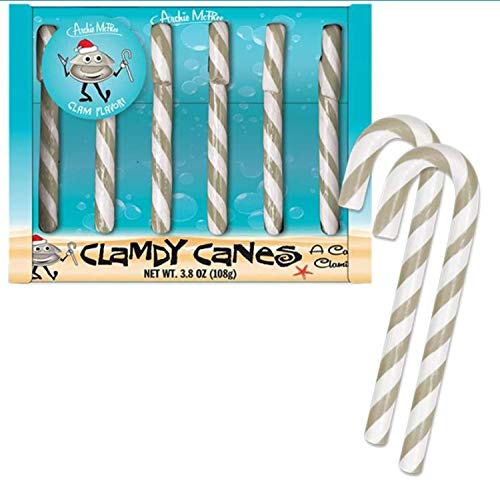 Hey Tim, I grabbed one of the candy canes off your tree. I thought it might have some exciting flavor, like caramel. What on Earth is this thing, and why are you laughing so hard? Oh, these are Clamdy Canes, and they are clam flavored candy canes. Whoever this Archie McPhee is, I'm putting him on the naughty list!
Candy Canes are traditionally peppermint flavor, though there are many variations in modern products. There are fruit flavors, flavors based on popular candies, and novelty flavors. The novelty flavors can range from weird to wild with such options as ham, sriracha, clam, wasabi, and more.
Peppermint is so last year – surprise them with Archie McPhee clam flavored Clamdy Canes this year!
You read that right, these are Clamdy Canes, the clam flavored candy cane. This package of six candy canes features a grey and white striped pattern. The flavor is the distinct briny funk known only to our favorite shellfish – the clam. Each candy cane is a standard 5 1/4" tall and comes individually shrink wrapped. Hang them on the tree, put them in family member's stockings, or just put them in a bowl on the table. Your friends and family will never see it coming!
These Clamdy Canes are perfect for the home or office. You can even mix them with some other flavors, and have a "tasting party" where participants guess what the heck that is. Add some mac n' cheese or pickle candy canes to the mix for festive fun. If you really want to try and fool them, how about some ketchup candy canes which are deceptively red and white. Note, we're pretty sure it's not Heinz – Pittsburghers beware.
So, if your holiday party needs a little excitement this year, wow them with clam flavored Clamdy Canes. Give one to your kids, and they'll never beg you for candy again! If anyone complains, just tell them to clam down. We're having one shell of a time over here!
Additional Notes
Ingredients are sugar, syrup, water, citric acid, artificial flavor and coloring
Available in packs of 2, 3, or 4 boxes as well if you have more than 6 people
Vegan, contains no actual clams
4.6 stars with over 100 ratings – holiday party approved!