Bose SoundSport Wireless Earbuds | Bluetooth Earphones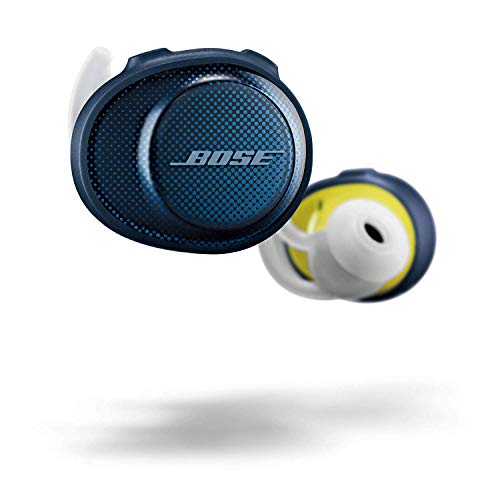 I got caught out in the rain last week and now my wireless earbuds stopped working! Guess it's time to get a new pair. Do yinz have any ideas? I want something that sounds great and won't break if we get caught in a little rain. You think I should check out these Bose SoundSport wireless earbuds? Hey, these look so great maybe I should wear them during my morning shower! Oh, I shouldn't do that?
Bose SoundSport wireless earbuds offer best in class sound quality. They also feature up to 5 hours of in-use battery life, matching or exceeding most other major brands. Bose Soundsport earbuds are also sweat and water resistant. When worn while working out at the gym, sweat won't interfere with these earbuds. If you are caught in the rain or splashed with water, your Bose earbuds won't be harmed. However, they are not waterproof.  Using the SoundSport earbuds in the shower where they are consistently being exposed to water, or attempting to wear them while swimming, can cause damage.
Wear your Bose SoundSport wireless earbuds for work, play, and everything in between!
These Bose SoundSport wireless earbuds are ready to go wherever you roam! These completely wireless headphones give you freedom of movement no matter what you're doing. Bose SoundSport wireless earbuds pair via Bluetooth to your device and deliver clear sound quality, while limiting outside noise interference. These Bluetooth earbuds have a dual microphone located in the right earbud to allow you to make and receive calls if your linked device supports it. Note that you only hear call audio in the right ear. Switch from listening to tunes to calls with ease!
These wireless earbuds feature an innovative in-case charging system. Simply deposit them into the case, plug the case in via the included USB cable, and your earbuds will be fully charged in about two hours. The case also offers protection when you bring them on the go; what a useful tool! These Bose SoundSport wireless earbuds ship with 3 different sizes of ear tips (small, medium, and large) so you can find a fit that works for you. Best of all, these earbuds are IPX4 water resistant rated, so sweat and the elements are no problem!
The SoundSport earbuds are great for the gym, sports games, outdoor walking or running, driving, or even just around your home or office. These versatile earbuds can be used for about 5 hours continuously, and the case can get you an additional 10 hours of charge on the go before needing plugged in recharging! Download the Bose Connect App for even more great features. You can manage your connections, change devices, and even use the "Find my Buds" feature. If you misplace your wireless earbuds, the app can track their last paired location, and emit a sound to help you locate them!
These SoundSport earbuds are an ideal gift for the person on the go. Makes the perfect gift for Christmas, birthdays, Mother's Day, Father's Day, and more!  Anyone who likes to go to the gym, spend time outdoors, or is just always on the go will appreciate these versatile and useful earbuds.
Additional Notes
Available in blue, black, orange, or ultraviolet (purple).
Best seller on Amazon in the Earbud & In-Ear Headphones category.
4.2 stars with over 17,000 ratings – people love them!
If you want to add some extra flair to your headphones, then check out these elf earbuds which work perfect with your cosplay!