3D Train Puzzle – Time for Machine Dazzling Steamliner Model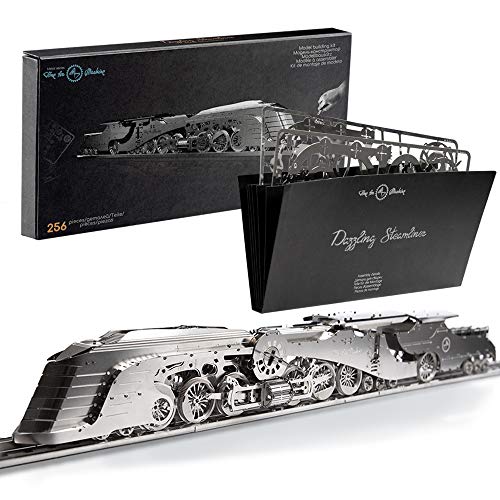 Kids, it's not time for us to set up the train around the Christmas tree. I know yinz love trains, but it's August! Let's make it to Halloween first and then we can talk about Christmas. In the mean time, check out this Time For Machine Dazzling Steamliner metal 3D Train Puzzle. Surely you can enjoy this wind-up model, and when you build it, we'll place it on the mantle year-round.
3D puzzles take flat cutout pieces like a standard jigsaw puzzle, but instead of forming them into a plane, you instead create an object with width and height. This additional dimension makes completing a 3D puzzle significantly more difficult and is better suited for adults than young children.
All aboard the Time For Machine Dazzling Steamliner metal 3D train puzzle!
One of our friends absolutely loves trains. In fact, he keeps a display up year-round and constantly keeps changing it up. He has mountains, buildings, and scenery that has all been built by hand. This love of trains started as a child, and now has passed on to his grandchildren.
If you too love trains but don't have the space to keep up a large display, then take a look at this Time For Machine Dazzling Steamliner metal 3D train puzzle. This stainless steel locomotive puzzle is said to be based on 20th century luxury trains. It evokes a steampunk aesthetic with all the incorporated clockwork-like gears.
The model train comes with a wind-up mechanism that actually moves your finished model back and forth on the 3′ of included track. The mechanism is based on the spring and wind-up lever action used traditionally in wind-up toys. As you wind, you compress the spring inside, and that energy transfers to the gears which in turn powers the train.
The DIY Time For Machine Dazzling Steamliner 3D train puzzle is a wonderful family activity. Pass along a love for trains to your children, and display a unique work of art that you crafted with your own hands. This display and conversation piece works as an elegant piece of home décor that can be displayed anywhere you have open space.
Additional Notes
The Time For Machine store includes other metallic 3D puzzles including a plane, racecars, tank treads, elaborate clock, and more
Overall track length measures around 3′, but this is broken down into three 12″ sections, so you don't necessarily require 3′ of available space for display
Product Dimensions: 20 x 2.75 x 2.4 inches
Item Weight: 3.29 pounds
Recommended for Ages 14 and up
Kit does not include tools
Need to purchase separately: needle nose pliers and file to smooth edges
Keep your train safe from pets and children with an elevated Christmas train around the tree! This 42″ train track attaches to the center of the tree.

Mr. Christmas Oversized Animated Train Around The Tree Holiday Decoration, One Size, Multi Color

If you enjoy creating in 3D, then check out this wooden Rube Goldberg machine 3D puzzle, and enjoy playing with the fruits of your labor after!

ROKR 3D Puzzle Wooden Marble Run Model Kits Birthday Gift for Teens and Adults

Fantasy fans will love piecing together this Creatto Unicorn complete with fairy lights to make it sparkle!

Creatto: Sparkle Unicorn & Friends Light-Up Craft Puzzle from Thames & Kosmos