Tea Drops Instant Pressed Loose Leaf Tea Sampler Box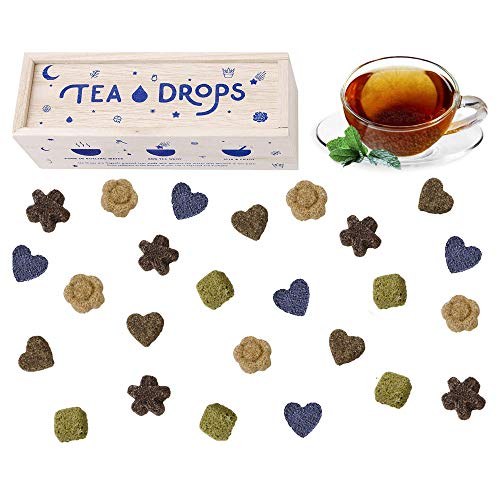 Oh no, my tea bag ripped open again, and there are tea leaves everywhere. Guess I'll have to throw this cup out and start again. I wish there were a better way to make tea that didn't involve fighting with tea bags. What do you have there, Susan? They're called Tea Drops, and I can use them to make perfect tea without a bag? Do Tea Drops have caffeine?
Tea Drops are available with and without caffeine, depending on the flavor you select. There are at least half a dozen different varieties of each. If you choose a variety pack, remember that Tea Drops do come with an expiration date. You can use them beyond expiration, but the flavor will not be as potent or fresh.
Making tea has never been easier with a little help from Tea Drops!
Tea Drops are a new and innovative way to make the tried and true cup of tea. Simply heat up some water to boiling, whether by electric kettle, stove teapot, Keurig, or other device. Then, add the hot water to a teacup and drop in a Tea Drop. The little block of pressed loose leaf tea will dissolve, leaving you a hot cup of sweetened tea, ready for drinking!
In this variety pack, you'll find 25 total Tea Drops in five different flavors. You'll receive five citrus ginger teas, which are caffeine free and quite refreshing. Next is five of the blueberry acai caffeinated blend, which has great antioxidant properties. Then, you'll have five rose Earl Grey, which are also caffeinated, but perfect for calming. Finally, you'll find five of each caffeine-free sweet peppermint which has a cooling effect, and a heart-healthy Matcha green tea, which is caffeinated. Each Tea Drop is made from an organic tea blend composed from loose leaf tea, spices, and raw sugar for sweetening.
As you drink your cup of tea, you will notice sediment in the bottom. Unlike tea leaves, which float on the top and make drinking difficult, this sediment remains at the bottom of the glass. Refrain from chugging the last remnants of your tea, and you'll be fine! If you do drink it, no worries. It's completely safe, and rich in vitamins and nutrients to boot.
Tea Drops are a quick, convenient, and consistent way to make a nice cup of tea anytime. They also make a great gift for the tea lover in your life. Choose Tea Drops as a perfect stocking stuffer for Christmas, a Valentine's Day gift, or even for a Secret Santa. They're fun, delicious, and the perfect choice for anyone who enjoys a hot beverage!
Additional Notes
Certified gluten free and Kosher
Use in cold water to make iced tea as well
Product and packaging is 100% recyclable, compostable, & biodegradable
USDA certified organic, made in the USA
Partnered with Thirst Project, a clean water organization that helps bring water to people around the world
Featured in Forbes, Wall Street Journal, Oprah Magazine, CNBC, and more
#1 best seller in Coffee & Tea Gifts and #2 in Tea Samplers on Amazon!
4.5 star rating with over 3,200 reviews – buy with confidence!