Reusable Juice Box – Asobu Juicy Drink Unbreakable for Kids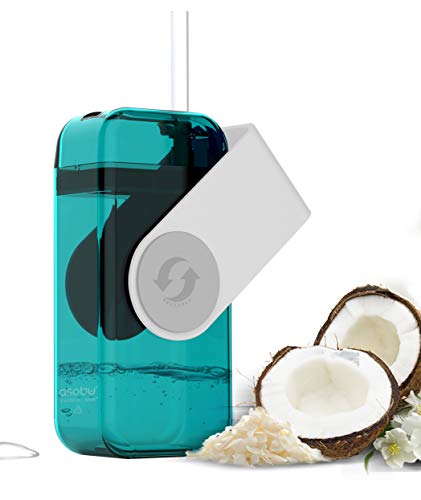 Why are you sticky, Allison? You dropped your juice box and it broke; I see. Well, now it's on you, your car seat, and all over the car. Once I clean this mess up, I'm ordering you an Asobu unbreakable, reusable juice box. That way, we can put your favorite juice in it, and no more broken juice boxes!
A reusable juice box is typically made from plastic or silicone. It is designed to look similar to a traditional juice box, but you add your own juice to it. They can be washed and reused many times, saving you money over time. Reusable juice boxes are also generally sturdier than the disposable variety, reducing accidental messes.
Keep your kid's juice safely contained with an Asobu unbreakable, reusable juice box!
Asobu's 10 ounce unbreakable reusable juicy drink box is your child's new favorite drink carrier! This drink box is made from food safe BPA free tritan plastic. It's not only completely safe and non-toxic, but it's virtually indestructible from normal use. With its small, compact size, it's the perfect size to fit in lunch boxes, picnic or beach bags, diaper bags, and more! This juice box is easy for small hands to hold and has a cover that's easy to open and close. It's something your kids can do themselves to feel independent, but it also prevents drips to keep parental sanity.
Using a reusable juicy drink box means you can change juice flavors every day. Fill it with your kid's favorites, and if your choosy toddler changes his mind, fill it with something else! It works with juice, milk, water, and most other liquids. This juice box is also safe for use in the refrigerator and freezer. Fill it up the night before and have a cold drink ready to go for the day!
Two reusable silicone straws are also included with this juice box, so you have an eco-friendly alternative to plastic straws. Aside from the eco-friendly properties, using this juice box will save you money as well, versus buying throw away juice boxes all the time. Best of all, this reusable box is dishwasher safe, making it convenient for everyday use!
So, if you have little ones that you're constantly packing juice boxes for, grab a reusable box instead. It'll save you money, give you more variety, be eco-friendly, and less messy. It's win-win for everyone!
Additional Notes
Juicy box is a transparent blue color. Flip lid color choices are white, red, yellow, purple, green, or blue
Weighs only 0.4 pounds empty
Rated 4.2 stars with over 50 ratings
Best seller in Amazon Launchpad Kitchen, a place for new and innovative products to get their start