Mighty Mug – Unspillable Mug for Coffee, Travel, Everyday Life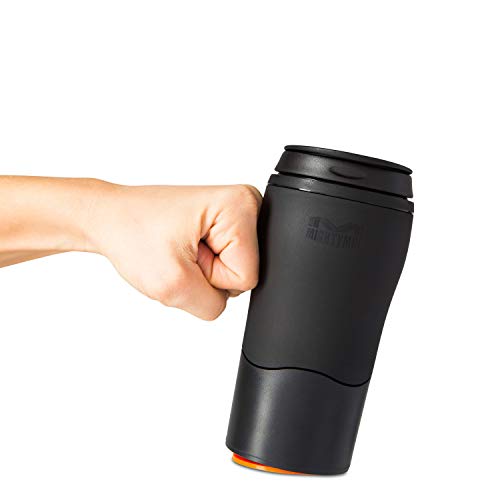 Oh no, I dropped my travel mug on my desk, and coffee is everywhere. Guess I'll add cleaning my desk to my list of tasks for the morning. You bought an unspillable Mighty Mug just for that reason? It has built in no spill technology? That sounds just like the coffee mug I need! How does the Mighty Mug work?
Mighty Mug works with the help of an innovative rubber base. The base will grip to any hard, flat surface, such as your desk. When knocked into from any direction, Mighty Mug will flex but not tip over, saving you from spills. Lift this mug straight up to release easily for drinking.
The unspillable Mighty Mug Solo is made from food safe materials that can keep your drinks warm for hours!
Mighty Mug Solo is made from a double walled BPA free plastic. This keeps it food safe for your drinks, and the dual walls keep hot drinks hot and cold drinks cold. Note there is not additional insulation added, so this mug is not intended to keep liquids to temperature all day.
This non-spillable travel mug is perfect for the morning commute. It is sized to fit in most car cup holders, and this Solo model in particular is compatible with most single serve coffee machines. Just brew up to 11 ounces of your favorite hot beverage, screw the lid on, and you're ready to go!
Your travel mug will prevent accidental spills not only in the car, but also at home or in the office. If you've ever ruined a phone, computer, or rug from spilled coffee, this mug is your new best friend.
Is Mighty Mug microwave safe?
Mighty Mug is not microwave safe, so no reheating your coffee. The lid is dishwasher safe for simple cleaning and sterilization, and the bottom should be hand washed with soap and water.
Always make sure your mug is completely dry before use, as residual water can cause the base to not seal properly.
Additional Notes
If you need more capacity, check out the larger Go version which holds 16 ounces
An iced drink version is also available with the Vortex
Rated 4.4 stars with nearly 100 reviews – office approved!
For regular cups and mugs, use the octopus no spill TableCoaster to ensure no accidental messes land on your furniture and floor!

TableCoaster – The ultimate anti-spill cup holder drink coaster (Jet Black)

Enjoy this golf mug with putter to practice your short game during breakfast!

Golf Coffee Mug Set Creative Gift Black … (golf coffee mug)

The Ember ceramic cup is your temperature control smart mug for always perfect drinks!

NEW Ember Temperature Control Smart Mug 2, 14 oz, Black, 80 min. Battery Life - App Controlled Heated Coffee Mug - Improved Design