Cooling Ice Vest – Beat the Heat Working or Exercising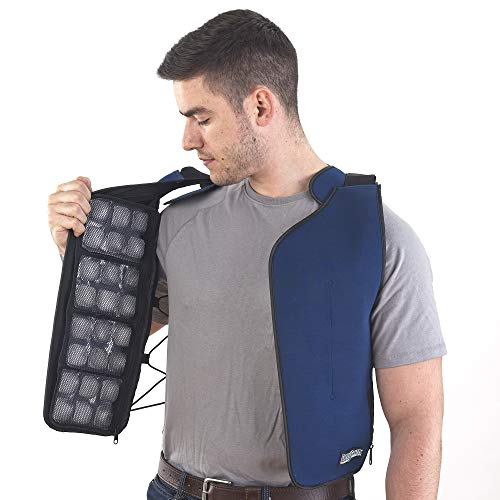 It's so hot outside. I feel like I'm just going to melt into a puddle. This fan, and even the air conditioner aren't cutting it anymore. I'm going to go put on my cooling ice vest and see if it helps me to cool down. How do you use a cool vest?
To use this cool vest, simply remove the three inserts and pop them in the freezer. Once frozen, slide them back into the pouches on the vest and pull the adjustments to make it snug to your body. For extended cooling, keep a second set of inserts on hand to swap out as needed.
A FlexiFreeze cooling ice vest works to keep you cool at work or play during the hottest days!
This FlexiFreeze cooling ice vest is designed to work on keeping you cool in the hottest conditions. It's designed for folks with heat sensitivities or medical conditions, as well as people who spend a lot of time outdoors. Enjoy gardening, mowing the lawn, working in construction, or going for a run while keeping cool.
A total of 96 cube shaped ice packs work to keep your body temperature down as you work up a sweat. This ice pack vest may be used indoors or outdoors, and even fits easily under PPE so you remain safe at work. Additionally, the cooling vest is made from soft rip-stop neoprene, which is lightweight, comfortable, and durable.
At only 3.5 pounds before ice, you won't notice the additional weight as much as you'll appreciate the cooling. This ice vest fits anyone from sizes XS to 6XL thanks to four adjustable locations. You'll be able to achieve a snug fit for maximum cooling, no matter your shape, size, or height.
The vest comes with one set of ice packs. However, if you'll be out for an extended time and need additional cooling, pick up spare ice packs to supplement. They can be carried in a deep freeze cooler and changed out as needed. As a bonus, I throw my lunch in there too!
Additional Notes
Available in zipper closure (pictured) or Velcro closure options
Lasts about 1.5 hours in high heat
Freeze 12 hours to overnight before use
Rated 4.4 stars with over 300 reviews – that sends chills down my spine!
Add a portable neck fan to keep the air moving on your face for even more cooling!
This cooling towel is another great way to stay comfortable at the gym, doing yoga, or playing sports
Remember to keep hydrated! A mist 'n sip bottle lets you drink water, and spray it on your face when you need a quick cool down
Massage those aching joints after a long day with the cooling relief of the Cryosphere cold roller
Let the Nest thermostat work to cool down your home so that it's perfectly comfortable by the time you walk in the door
If you plan on running in your ice pack vest, don't forget your phone! We looked at some of our favorite ways to carry your phone while running to keep your favorite technology close at hand.