Handmade Explosion Box – DIY Photo Surprise Gift Box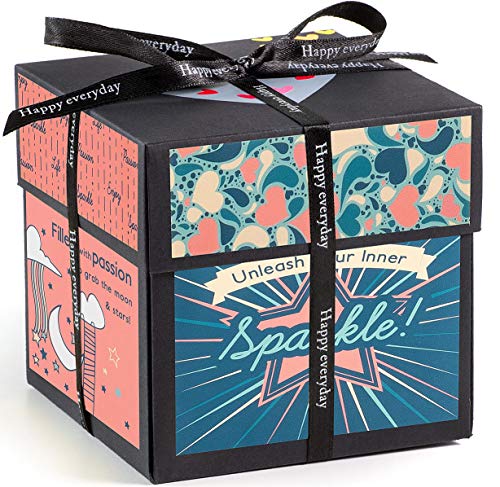 I got your gift in the mail this week, Charlotte. I was surprised when I opened it and things popped out! After the initial shock though, this box is really unique! So this is your handmade explosion box, and they can come in all sorts of different designs? Well, I'll have to check it out so I can surprise more of my friends!
An explosion box is a gift box that contains trinkets that pop out upon opening. The lid serves to hold it together, and when the recipient takes it off, it "explodes" the contents. Explosion boxes may contain glitter, spring loaded butterflies, candies, or pictures, just to name a few ideas. You can purchase them pre-assembled or create your own.
Make friends and family jump…for joy, when you give them a handmade explosion box!
This XOXO handmade explosion box is the perfect choice for giving a heartfelt gift. This box is the ideal mix of pre-made and DIY. The hard work is done for you, but you can still personalize it so it's just right! The gift box comes pre-assembled, in your choice of designer exterior prints. We're featuring the Sparkles print, but other styles are available as well.
The interior of the surprise box is also pre-assembled, but requires your decorative touches. Four sides have three leaves that will fold open, which you can place photos on. The four corners between the photo sleeves are perfect for decorating with the included stickers. You can also use something like metallic markers to create your own designs!
There are small envelopes to fold up notes, gift cards, or other flat objects as well. The central compartment can be filled with anything you like, though the kit has some paper roses as a suggestion. Other great ideas include candies, glitter, jewelry, or other fun trinkets. For an extra special touch, add some spring-loaded butterflies to the gift box, so they'll "fly" out in surprise when opened.
Once you have everything decorated just right, simply fold everything up into the cube shape. Secure your handmade explosion box with the included ribbon, and send it off to your recipient. When they open it, the surprise gift box will pop open, "exploding" so they can see all the beautiful contents you've assembled.
Explosion boxes are an excellent choice for gift giving any time. We think they're great for Father's Day, Mother's Day, Valentine's Day, or a birthday. You can't go wrong with a gift from the heart, and it allows you to share a moment with friends and family whether they're near or far.
Additional Notes
Outer box is a 5″ cube, inner box compartment is 2.8″
Fits 12 photos sized 4 x 3.5 inches
Up to 10 smaller (2×2) photos can be included in the sleeves
Weighs 9.4 ounces unfilled
Rated 4.3 stars with over 100 ratings!
Add a DIY personal touch to any item with the Easy Etcher engraving pen!
Add a cute DIY stuffed Narwhal that you made with this stuffed animal kit!
If you want to become the ultimate in home crafts, then investing in a Cricut maker will make your life easier.